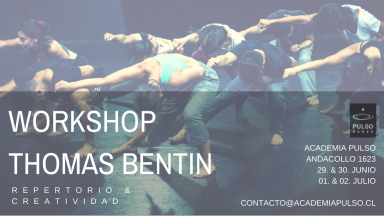 WORKSHOP
- Repertoire & Creativity -
29th June - 02th July
Academia Pulso
Andacollo 1623
Providencia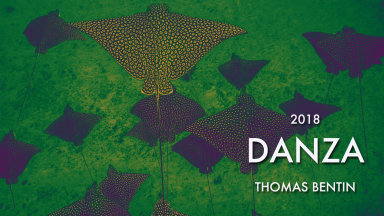 WORKSHOP
- Morning Training -
Tuesdays & Thursdays
From 10.00 - 11.30
Academia Pulso
Andacollo 1623
Providencia
Welcome!
News
June 2018
Intensive workshop in Academia Pulso 29th June - 02th July:
Info HERE
Performances of ...and They Escaped the Weight of Darkness in Villarica 16th & 17th of June!
May 2018
Back in Santiago with new classes and workshops coming up soon.
Regular morning training: Academia Pulso info HERE
April 2018
New performance with danish director Petrea Soe. Premiere 18. April at Teater Hund, Copenhagen.
March 2018
Performing in Airport by Kristjan Ingimarrson Company, at the Belgrade Dance Festival in Serbia, 18. & 19. March.
January 2018
Workshops & Clases in Santiago de Chile.
November 2017
Performing in Morph by Kristjan Ingimarrson Company at Theatre Republique in Copenhagen 16.-25. November.
September 2017
Repremiere in Santiago of " ...Y ESCAPARON DEL PESO DE LA OSCURIDAD " by Thomas Bentin with Colectivo Escénica en Movimiento. M100, 28.Sept untill 1.Oct.
August 2017
Premiere of new performance! " UNTITLED #8 " by Thomas Bentin, coproduced by Centro de Experimentación Escénica & Compañía de Ballet de Camara de Valdivia, at the Festival for Contemporary Dance Junto al Río, Valdivia.
At the same festival repremiere of CUMULONIMBUS with Plataforma Mono.
Junio 2017
Back in Chile preparing regular classes and workshops in Santiago, Chiloé and Valdivia. MORE INFO HERE
February - May 2017
After the premiere of Cumulonimbus with Plataforma Mono, the year continued immidiately with 2 new creations: FEAR choreographed by Thomas Bentin for the international company Black Box Dance Company in Holstebro. And as performer, MORPH by Kristjan Ingimarrson Company, co-created with Aarhus Teater en Denmark.
January 2017
CUMULONIMBUS for the 10 talented dancers from Plataforma Mono is now in rehearsal. Premiere 24. January 2017, in Escuela Moderna, Chucre Manzur, Santiago de Chile.
September & October 2016:
Thomas Bentin will be touring in Denmark with the performance Airport by Kristjan Ingimarsson Company.
April 2016:
Thomas Bentin will assist the japanese choreographer Kaori Ito in her new creation for the Contemporary Dance Company BANCH in Santiago de Chile.
15. March 2016:
From this date Thomas Bentin gives regular morning classes en Centro Meru. For more information go to Workshops.
1. - 30. January 2016:
Workshop in Espacio Checoeslovaquia, Santiago de Chile:
25.-29. January 2016 18.00 - 21.00 pm.
14. Sept - 6. Dec 2015:
Thomas Bentin performs in the show AIRPORT by the icelandic/danish Kristjan Ingimarrson Company. Premiered on 12. Nov 2015 at Theatre Republique, Copenhagen.
26. - 30. August 2015:
Thomas Bentin participate as teacher and part of the jury at the 6. version of the Festival de Danza de Florianopolis, Prémio Desterro, Brazil.
31. July 2015:
Premiere of Thomas Bentins new dance piece MIGRACION, created for Compañía de Danza Espiral, Santiago de Chile.
9. -14. June 2015:
Thomas Bentin & Colectivo Escénica en Movimiento tours with the performance HAPPYLAND directed by Thomas Bentin, to Festival de Danza #JUNTO in Teresinha, Brazil.